In an exclusive interview to Media, the veteran Samajwadi Party leader spoke of the 93 cases in which he is an accused & alleged harassment of Muslim voters in last month's bypolls.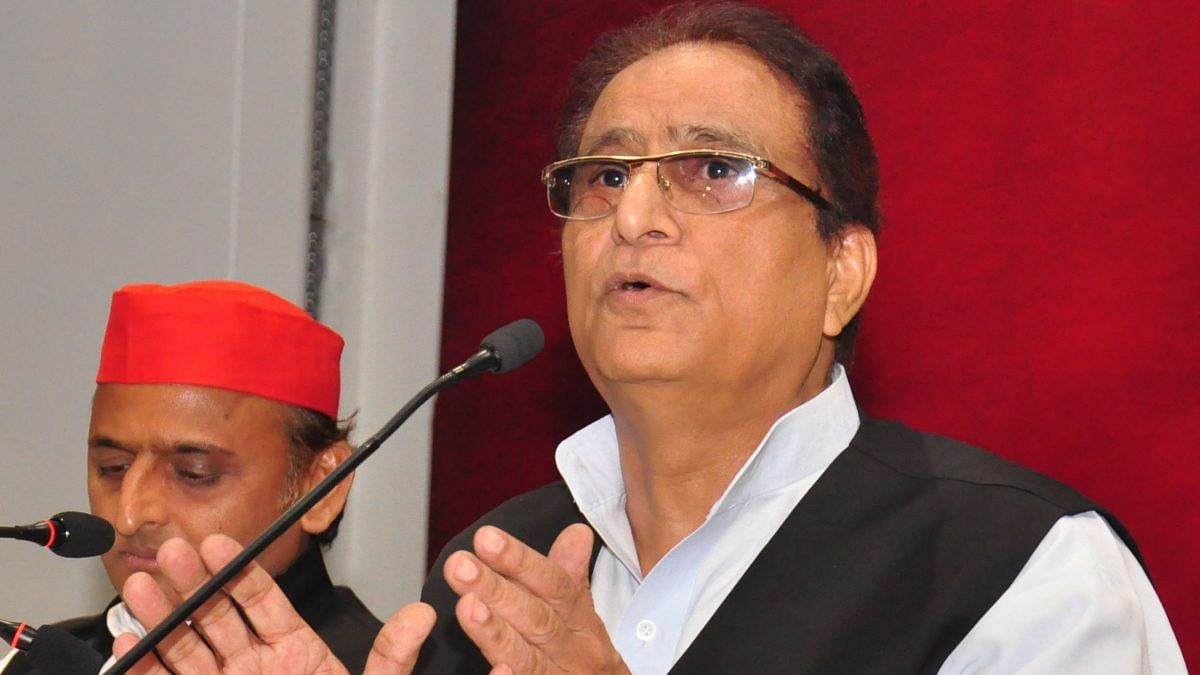 Lucknow: Right to vote for Muslims should be ended if members of the community are not allowed to exercise this right, veteran Samajwadi Party leader Azam Khan told Media in an exclusive interview Thursday.
The SP leader's remark came in the backdrop of bypolls for Rampur and Azamgarh Lok Sabha constituencies held last month, in which the SP suffered a loss.
Commenting on the low voter turnout in the Rampur bypoll, Khan alleged harassment of Muslim voters and said he favoured ending voting rights for Muslims if they were not allowed to exercise that right.
While according to the election commission, the total voting percentage in Rampur bypoll stood at 41.39 per cent, Khan claimed that the percentage was only around 32 per cent in the entire district.
Khan also said that it was he who had suggested to party chief Akhilesh Yadav to not canvas in Rampur ahead of the polls, so that it does not turn into a "VVIP election". The SP leader claimed this could have led to "more harassment" for Muslim voters.
The SP chief's absence from the bypoll campaign had raised many eyebrows and drawn jibes from rival BJP.
Khan also cleared the air on his meeting with Uttar Pradesh MLA and Akhilesh's uncle, Shivpal Yadav, during his time in jail, and alleged that his bail was delayed because he was a Muslim.
Khan is an accused in 93 cases in UP,  which include allegations of land grab, getting opponents' homes demolished and stealing ancient books.
'Muslim voters thrashed, police hurled abuses at them'
"Only 32 per cent from Rampur voted in the entire district (voted)," Khan told Media.
He alleged: "When people are beaten with sticks, abuses are hurled at them, their beards pulled, will you go to vote in such a scenario? Amar Ujala (a Hindi newspaper) wrote about how Muslims were being hit and women made to run away. When people in your colony and mohalla (area) get to know what is happening (your experience), they won't go to vote either."
"So I am in favour of ending voting rights for Muslims, because they are not being allowed to vote, because their vote can help change the government. They are being harassed as their vote can bring a political change," Khan claimed.
Khan said that he wants three rights for Muslims — right to life, right to religion and right to education. "These three rights should be granted by the Parliament via a law," he said. The three rights being demanded by Khan are already part of the fundamental rights guaranteed by the Constitution.
Asked about the reasons for the SP's defeat in Azamgarh, Khan said that the same things were witnessed in Azamgarh but with lesser gravity.
"There it was less, here more. Here, there was a Muslim candidate (Rampur) who was weak, Azamgarh had a strong candidate from a powerful and good family who was not a Muslim," he said.
Asked if the situation would have been different had SP chief Akhilesh Yadav canvassed for the candidates in the two bypoll seats, Khan claimed it would have led to more harassment for the voters.
"I myself stopped him (Akhilesh) from coming here, saying that it should not be made a VVIP election. Had he come, the election would have become a VVIP election. The real truth was that the motive (of the BJP) was to defeat Azam Khan, then (in case Akhilesh campaigned) it would have been to defeat Akhilesh and Azam both, at least now it is only me," he said.
Speaking about the future of his politics in Rampur, Khan claimed that nobody could defeat him in Rampur, provided elections are held in an "unbiased" manner.
On kabaristan and shamshaan
Khan, who had extensively campaigned for his aide and SP candidate Asim Raja in Rampur, said that he was not very anxious about his own future or his son Abdullah Azam's future. Also a member of SP, Abdullah represents the state's Suar constituency in the UP legislative assembly.
"I am not very anxious about my own and my son's future, but Muslims should not be harassed. Sticks should not be used on them, their beards should not be pulled. The difference between kabaristan (burial ground) and shamshaan (cremation ground) should not be told to them," said Khan.
He added: "This travesty should not happen… These allegations that one would not get electricity on Holi and Diwali, but on Eid. I say that even if the most rigid Muslim ruler becomes a CM, he would not have dared to give electricity on Eid and deny it on Holi and Diwali. Responsible people of the BJP have said these things."
Khan was referring to UP CM Yogi Adityanath's remarks at a poll rally ahead of this year's assembly elections, in which he had claimed that the previous Akhilesh Yadav government did not provide electricity to people on Holi and Diwali, but there was always power on Eid and Muharram.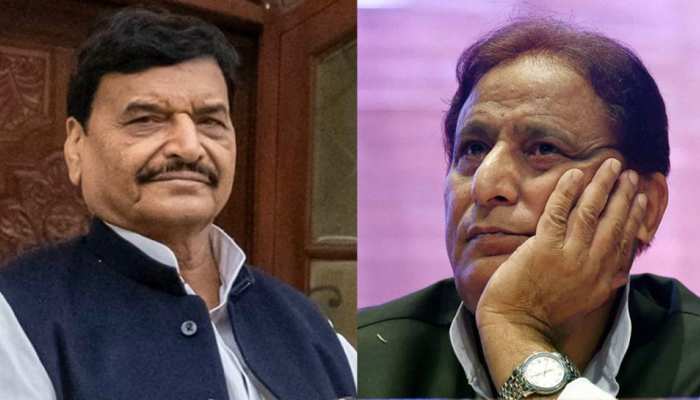 'Met Shivpal while in jail because…'
Khan, who had spent about 27 months in jail because of the 93 cases pending against him, before being released on bail on 20 May, had made headlines when he denied a meeting with an SP-delegation led by MLA Ravidas Mehrotra on 24 April, but met Akhilesh's estranged uncle and Pragatisheel Samajwadi party-Lohia chief Shivpal Yadav on 22 April.
He had also met Congress leader Pramod Krishnan while in Sitapur jail.
"I was unwell that day," Khan said, evading a question on whether he was upset with the SP leadership that time.
After his release, the leader had remarked that his own people contributed towards his destruction. Asked about that comment, Khan told Media that there were many people in the list of his own people.
Responding to reports of being upset with the SP leadership while in jail, Khan said, "I didn't say that. There is a long list of people you call your own".
For the first time since his release from jail in May, Khan visited the SP office in Lucknow Thursday, for a meeting with the opposition's presidential candidate, Yashwant Sinha.
SP leaders led by Akhilesh Yadav, along with RLD chief Jayant Chaudhary, held a meeting with Sinha, who was in Lucknow to seek support from the MLAs of the SP and its allies ahead of this month's presidential elections.
Explaining his meetings in jail, Khan said that while he had good relations with Ravidas, he met the others because he still wanted the estranged Samajwadis (Shivpal Yadav) to return to the fold.
"I have good relations with Ravidas ji, he is a lovely man. But I met the others you are hinting at (Pramod), because I have personal relations with him. He is a gentlemen and does not have Hindu-Muslim divide in his mind. He respects both the religions," said Khan.
He added: "I met Shivpal ji because even today, I want these differences to end. I will try towards it and that all those Samajwadi who have been estranged, should return."
Shivpal Yadav launched his Pragatisheel Samajwadi Party in 2018, but reunited with nephew Akhilesh ahead of the 2022 assembly election in a bid to defeat the BJP. He contested the elections on an SP ticket and won from Jaswantnagar. Differences between the two have since grown.
In April, after meeting Khan in jail, Shivpal Yadav had alleged that the SP was not doing anything for the leader.
Talking about the Samajwadi party, Khan said, "I want two things for the party. One, all Samajwadis should come back and those upset should be pacified. Secondly, the old style of (functioning of) our party… of holding conventions and meetings, even in states where our party and our MLAs are not there."
He added: "Like Mulayam Singh would do in his time…. (hold meetings) in Maharashtra, Rajasthan, Uttarakhand, MP, Bihar. It gives recognition to the party."
Asked if there could have been efforts to pacify estranged leaders like Shivpal Yadav by the SP's top leadership, Azam said that there was a lack of advisers.
'Denied bail because I was Muslim'
Elaborating on the 93 cases filed against him, the veteran SP leader alleged that he was denied bail by lower courts because he was "Azam Khan" and "a Muslim".
Speaking about the 'enemy property' case, in which he was granted bail by the Allahabad High Court in May after intervention of the Supreme Court, Khan said that while the other accused got bail, he was denied one.
Khan has been accused of grabbing 'enemy property' for his Mohammad Ali Jauhar University under the Enemy Property Act, which deals with properties left behind in India by people who took Pakistani and Chinese citizenship after the wars of 1971 and 1965.
"Everybody had gotten bail from the lower court, but since I was Azam Kham, I was denied bail. The (former) chairman of Shia Waqf Board, Waseem Rizvi (who has converted to Hinduism and is now known as Jitendra Narayan Tyagi), got an anticipatory bail (in the same case). Rest of the accused (in that case only) got bail from lower courts, but since I was Azam Khan, I had to go to SC," alleged Khan.
He added: "One person complained that I have hurt his feelings, an FIR was lodged in that case in Lucknow. I had to approach the high court in that case in which maximum punishment would be a fine for defamation. Both lower and session courts denied bail."
Khan also alleged that in the Jal Nigam recruitment scam case — in which he is among those accused of irregularities and corruption in the recruitment of 1,342 people in the Jal Nigam during the tenure of the Akhilesh Yadav government — the name of the then secretary of the urban development department was removed from investigation because he was "Singh".
The SP leader also claimed that the high court, while hearing his (Khan's) plea, asked the government counsel how a person can be kept in jail for two years when there is no evidence against him. He got bail in the case from a Lucknow bench of the high court in March 2022.
"No one went to jail in that, all got anticipatory bail and the FIR against one of the persons who could have been an accused was quashed by high court. But since I was a Muslim and because I was Azam Khan, I was denied bail (by lower court)," he alleged.
Asked about the ED probe against him in a money laundering case for alleged transfer of funds for the construction of the Jauhar university, Khan said, "I have no grouse regarding that because that is happening with everyone."
"ED has become a joke," pitched in his son, Abdullah Azam.
While the ED had started questioning Khan while he was still in jail, his son and wife Tazeen Fatma have also been summoned in the probe.
Abdullah Azam was questioned by the ED for two days consecutively on 7 and 8 July and Fatma is expected to be called soon.
News Source : ThePrint